That oiling your hair can transform it into the glossy ideal state that you see in magazines is a well known fact. We've been raised with this habit in this country, with concoctions of coconut, almond, aavla, and what not! But we don't really enjoy the process of oiling our hair with these heavy duty potions, because washing them out is a task in itself. The smell isn't particularly enticing, and most of us just can't find the time to leave the oil in for two hours, let alone overnight.
But there is a brand new oil on the block, and it kicks all of these to the curb, solving each of the issues that the others present, while maintaining the benefits.
Here's why you should welcome Argan oil to your vanity cupboard, with open arms and open hair!
It's light.

But unlike the non-sticky oils that don't really nourish your hair, this one has double the proteins making it highly effective.

It can be used after your shampoo, as a leave in conditioner, owing to it's non-sticky nature.

It makes for a great styling agent, making your hair manageable.

It can be applied to your scalp and your roots.

It tames the flyaway strands and the fights frizziness.

Dandruff and flaky scalp will no longer be a problem, with regular use.

It protects your hair from the harsh sunlight and maintains the gloss.

It can be used as a shampoo! (Yes, you read that right.)

Pure argan oil can be used as a hair mask, once a week.

It is highly mmoisturizing, but doesn't make your locks heavy.

Argan oil has a lovely fragrance, which is not too strong!

When used before straightening or curling your hair, it will lend an additional barrier of protection from the heat of the styling tools.

Since it is an oil, it is completely chemical free and will have no harmful effects on your mane.

Argan oil can be used on coloured or chemically treated hair to make it healthier.

Pure argan oil can be used on your skin and body to hydrate it too!
You're convinced. You want to try it. How and where do you go?
We placed our trust in the absolute best and tried out  Moroccanoil, the brand that believes in the goodness of argan oil as firmly as we do. 
We found that hair was shinier, glossier and looked healthier than before. We received multiple compliments on our mane the following week, and we are absolutely hooked! Also, even frizzy hair was super easy to manage once it had been worked on with a few drops of this magic potion!
Additional benefit: It smells like a DREAM.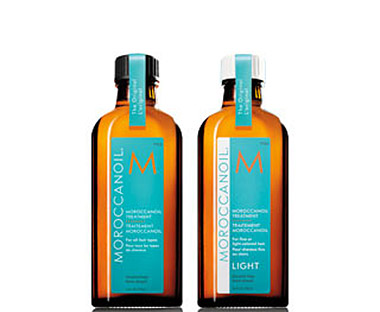 The Moroccanoil bottle is currently priced at Rs. 2,885, and can be ordered online, OR you can try this product and four others in the brand new Hair Care Box at VanityCask, just for Rs.999 here. 
We'd love to know about your experience with argan oil, so do write to us or leave a comment.
Cheers ladies!